Your life doesn't get better by chance. It gets better by choice. FNB is the smarter choice.
A quick look at the coolest bank in South Africa
FNB is old, very old, in fact it is the oldest bank in South Africa, yes originals are cooler. Why not choose a bank that has 178 years of experience in satisfying customers? I know i would.
FNB goes against the grain of ' you can't teach an old dog new tricks' it may be the oldest bank in SA, but it is also head and shoulders above its competition when it comes to innovative banking.
FNB was the first bank to introduce the mobile banking application, which allowed customers to access their accounts at any time. This app was a game changer, mainly because it allowed customers to always know how much month was at the end of their money.
First National Bank mobile banking application. Credit Nafisa Akabor.
If you're not highly impressed by their innovation, which you should be, because you are under the impression that being innovative in the South African banking industry isn't really a big achievement, then surely you will be shocked to discover that FNB won the WORLD'S most innovative bank award in 2012.
One of the many banking innovations from FNB included their successful eBucks brand. eBucks was a pioneer in virtual currency backed by a bank, and anyone who tells you that their bank's rewards system is better or came first, is sadly misinformed.
Buying fuel with an FNB eBucks card, one of the many useful ways to spend eBucks. Click here to see more ways that you can spend eBucks.
The FNB Switch campaign
Selecting a bank to store your hard earned money is usually not a tricky process for most people. Consumers are highly likely, and inclined, to just continue using the bank their parents used. Cue- FNB's extremely successful Switch campaign.
The campaign was centered around a central fictitious character, a cold caller named 'Steve' from beep bank. I am highly certain everyone remembers poor old Steve. The campaign first used the radio broadcasting platform to air phone call conversations between Steve and potential clients of 'Beep bank'.
Audio of Steve from beep bank. Credit DDB South Africa
The success of the radio campaign alone was mind blowing! One year after the switch campaign began, 1.7 million new accounts were opened at FNB. That number is so big some politicians can't even pronounce it.
The next chapter of the switch campaign saw the infamous 'Steve' character go missing, and a search for his replacement was the new saga for 'Beep Bank'. Highly recognisable voices were used as the new stand in cold callers for 'Beep Bank'.
Where the beep is Steve audio. Credit DDB South Africa
The campaign moved into a stance aimed at associating 'Steve' with all the poor decisions uninformed consumers made. The campaign therefore took the road of how to "Un-Steve" yourself. FNB moved online with its campaign, posting one-liners to help consumers decipher whether or not they could be a 'Steve'.
Are you a Steve?
Have you ever done any of the following things:
Watched paint dry?
Brushed your teeth before drinking orange juice?
Thought Hunger Games is based on a true story?
Driven with your aircon on and windows down?
if you answered yes to any of the questions above, you are probably a Steve.
The campaign integrated further by moving outdoors. Billboards were put up around South Africa with the catch title of 'Un-Steve' yourself being the main message.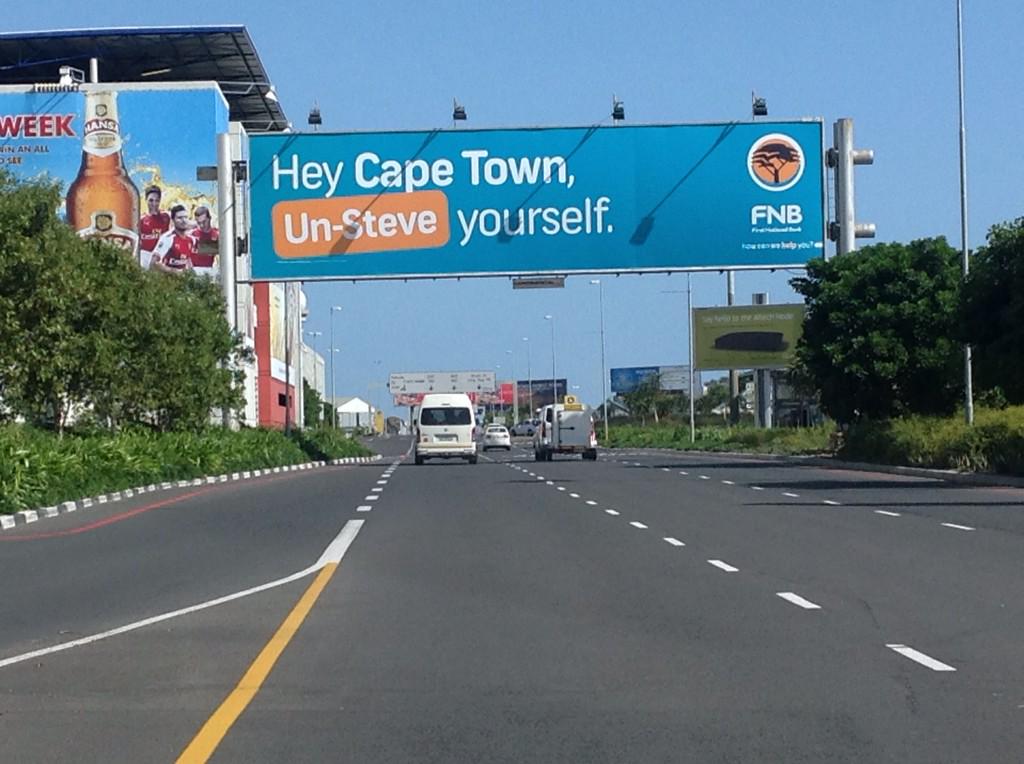 First National Bank Un-Steve yourself billboard. Credit Deon Gouws.
Consumers were constantly exposed to the switch campaign, when they turned on their radios, went online or drove home from work. This helped the switch campaign as it encouraged many consumers to distance themselves from their Steve-like behaviour.
Target Market for the switch campaign
FNB had an aim of maximising their market share, by encouraging all consumers who were not on the TURQUOISE team to switch. In short, their main targets were consumers tired of seeing RED when their bank couldn't reward them for loyalty. Consumers who were BLUE due to being with a standard bank who offered no innovation, and consumers who were just naturally GREEN with envy that their bank wasn't as innovative as FNB.
So are you tired of seeing RED when you walk into your bank? Are you tired of feeling standard and BLUE when your bank messages you? Or even GREEN with envy when you see the benefits of friends banking with FNB, well then how can the TURQUOISE bank help you?